Free Music Charts Oktober 2011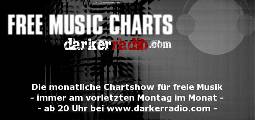 Am Montag war es wieder soweit, die Free Music Charts für den Monat Oktober 2011 wurden veröffentlicht. Für meine Band Lichtscheu ging es wieder aufwärts bis auf den zweiten Platz, den Spitzenplatz schnappte uns allerdings The Womb aus Australien weg. Dann können wir uns ja zumindest "Best German Act" nennen, oder?
Meine weiteren Favoriten sind auch noch dabei: Obsidian Shell (7.), Unwoman (8.), Kites (11.) und The Sunshine Factory (14.).
Für unser "Träum süß" ist jetzt Bergfest, dreimal sind wir nun in den Free Music Charts vertreten gewesen, maximal dreimal können wir noch dranhängen, dann ist nach den Regeln Schluß.
Ich würde mich sehr freuen, wenn meine Leser dazu beitragen, dass wir auch im November eine gute Plazierung erreichen. Ihr dürft einmal pro Monat für bis zu 5 Bands stimmen. Ihr könnt euch die Sendung als Entscheidungshilfe jederzeit als Podcast anhören.