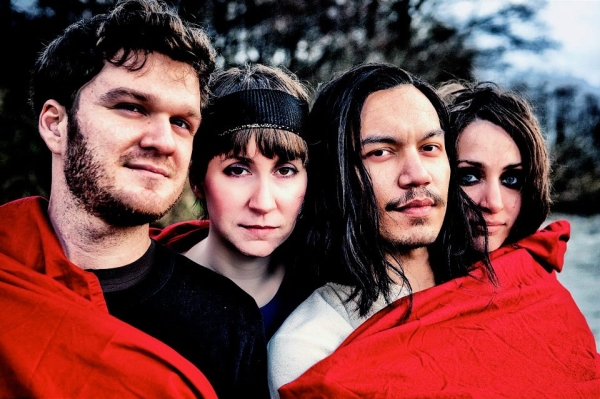 Die amerikanische Indie-Popband Starlight Girls kommt aus Brooklyn und ist trotz des Namens nur zur Hälfte weiblich, wie man unschwer auf dem Bandfoto erkennen kann. Christina (Gesang/Keyboards/Flöte) und Karys (Schlagzeug/Gesang) haben mit ihren männlichen Mitstreitern Shaw (Gitarre) und Mark (Bass) am 01. April ihre Debüt-EP, die ebenfalls "Starlight Girls" benannt ist, unter CC BY-NC veröffentlicht.
Die Band entstand erst 2011 aus einem Solo-Projekt der Sängerin Christina, das erst als "Christina B" und später als "Christina B and the Starlight Girls" bestand.
Die 5-Track-EP "Starlight Girls" enthält spritzigen Retro-Pop mit den dominierenden Bestandteilen 60er-Jahre Orgel, süßer, teils zweistimmiger weiblicher Gesang und Flötensolos. Das ganze mal verträumt, mal tanzbar und sehr abwechslungsreich.
Für die ruhigen Parts steht "Flutterby", zu dem es auch ein offizielles Musikvideo gibt:
Nebenbei bearbeiten die Starlight Girls auch Songs anderer Künstler, "All Around And Away We Go" von Twin Sister und "Classic Girl" von Deidre wurden bisher remixt.
Ein weiteres interessantes Projekt von Karys und Shan ist eine Mailingliste, die jeden Monat ein Mixtape mit 10 kostenlosen (wenn auch nicht nicht immer CC-lizensiert) Songs von 10 verschiedenen bekannten und weniger bekannten Künstlern ins elektronische Postfach liefert.
Starlight Girls im Netz: Bandcamp | Facebook | Last.fm | Songkick | Soundcloud | Twitter