Free-Music-Charts im Mai 2010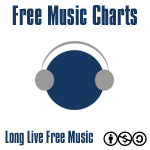 Am Montag hat Darkerradio die Mai-Ausgabe der Free-Music-Charts gesendet. Wer im Gegensatz zu mir am Pfingstmontagabend etwas anderes vor hatte, als am Internetradio zu sitzen, der kann den Podcast hören.
Mittlerweile zahlt sich auch aus, dass ich mich seit einiger Zeit sehr intensiv mit Creative-Commons-lizensierter Musik befasse, denn 3 der 7 Neuvorstellungen waren mir nicht nur schon vorher bekannt, ich habe sogar schon vorher über die Künstler gebloggt, nämlich: The Silence Industry, The Wars und Zoe.LeelA.